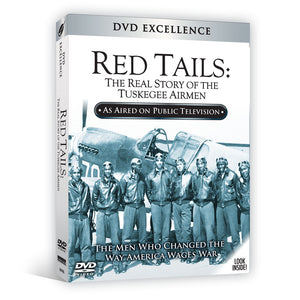 DVD Red Tails- The Real Story of the Tuskegee Airmen
Regular price $20.00 Sale
"Success is to be measured not so much by the position that one has reached in life as by the obstacles which he has overcome." — Booker T. Washington, Founder of the Tuskegee Institute.
They were often treated as second class citizens, yet many (if not most), of the African American men who eventually joined the Tuskegee Institute volunteered to serve during World War II. Why?
Find out in Red Tails, previously seen on public television, as the film takes you directly to the Tuskegee training base as it exists today. And — through the use of archival footage — transports you to the battles where some of America's bravest men fought in the air and on the ground. Hear from their family and friends, and see film and pictures from the war that capture the thrill and danger of air battle over Europe.