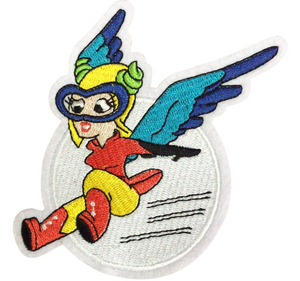 Fifinella patch
Regular price $14.00 Sale
If you're a female pilot with a passion for history - or you know someone who is - you must buy this embroidered patch.

The patch shows Fifinella (Fifi for short) a flying female gremlin designed for a movie based on a Roald Dahl book. The movie fell through, but the patch lived on to represent the brave women of the Women Air Force Service Pilots. These civilians tested planes, trained new pilots and ferried planes, freeing up their male counterparts for combat missions.

This durable patch attaches easily with iron-on application. Don't pass up this opportunity to celebrate the countless contributions of women in aviation.
3 1/8" Wide x 3 3/4" Tall Embroidered Patch with Iron-On Backing.